Day 1, 2: While day one is precisely about landing in New Delhi, India, the second day is actually when the fun began for the 15 tourists, whom Asian Adventures had decided to take out for a 14-day tour of the best birding regions of North India. On second day guests had an early morning breakfast and packed bags for Bharatpur the home to world-famous Keoladeo Bird Sanctuary. 
But before another birding adventure was waiting for them in New Delhi. Yes, not many are aware that the Sultanpur Sanctuary habitat, in this otherwise concrete jungle, constitutes a wetland Ecosystem that is rich in bird life. One can get over 70+ species in a day. So our tourists' camera went on capturing BLACK-NECKED & PAINTED STORK, EGRETS & HERONS in large numbers, Kingfishers such as WHITE-THROATED, COMMON AND PIED, GREY HORNBILL, ALEXANDRINE PARAKEET, SARUS CRANE, SPOTTED OWLET and many more in the marshes, bogs and the grasslands house. The special one was Indian Courser.
And late morning I guided them to Bharatpur which was waiting for all 15 of them.
Day 3: BHARATPUR 
Before the Sunrise, we reach the Keoladeo National Park or the Bharatpur Bird Sanctuary with cameras and food, water, etc packed up. Though there are various options for the tourists to explore the Sanctuary, but all 15 guests decided to explore the sanctuary on bicycles. And this mosaic of grasslands, woodlands, swamps and wetland…..the sanctuary offers more than 200 species of birds, 30+ species of mammals and species of snakes! The bird families in the park also include hundreds of aquatic birds that fly here in the winter months. So through the day, till evening their camera enjoyed the company of SARUS CRANES, SPOT-BILLED PELICANS, BAR-HEADED AND GREYLAG GEESE, MANY DUCKS, INDIAN SPOTTED AND WHITE-TAILED EAGLE, SHIKRA, MANY WADERS, WAGTAILS & WARBLERS, RED-THROATED FLYCATCHER, various species of LARKS, AND PIPITS. 
It is also a great place to watch mammals like the Golden Jackal, Jungle Cat, Nilgai, Sambar, and Wild Boar.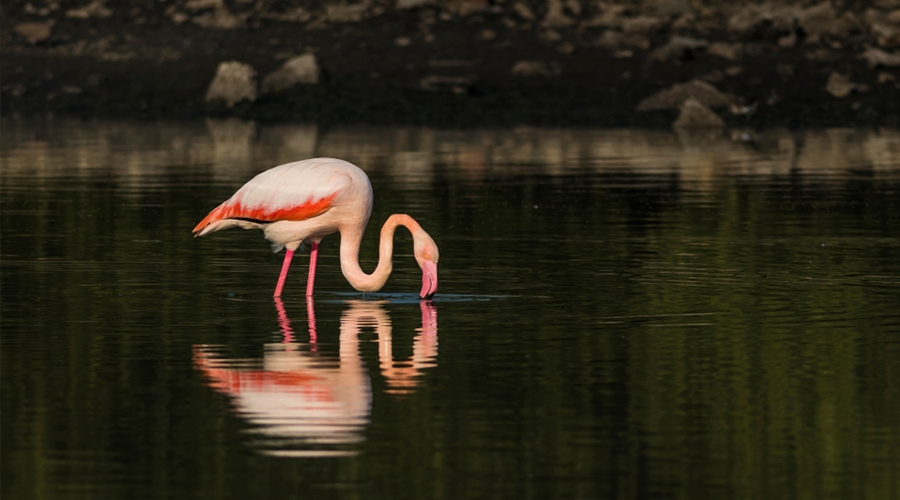 Day 4: BHARATPUR TO CHAMBAL VIA AGRA
After an early morning breakfast and before heading of to Agra, we took the guests for birding outside the park. They saw SPOTBILL DUCK, COOT, PAINTED STORK, WHITE-EYE POCHARD, IBIS AND HERONS even near human inhabitations.
Late morning we drove the guests to Agra and at lunch arrived at Land of Taj Mahal.  They were surprised to know that the Taj Mahal is not just known for its marble beauty, but also rare birds at the rear side where the Yamuna flows. We saw over 50 birds – among them were four species of EGRETS, OPENBILL AND BLACK-NECKED STORKS, WHITE IBIS AND SPOONBILL…and ofcourse three species of HERONS. Post that we drove all fifteen of them to Chambal for a night stay and birding the next day.
Day 5: CHAMBAL SANCTUARY TO NOIDA
An early morning boat-ride at the Chambal is the best experience one can get at a river. And we at Asian Adventures really knows how to plan and execute its birding tours. River Chambal is one of the country's most beautiful and least polluted river of India. So the birding thrill includes spotting the large nesting colonies of the rare INDIAN SKIMMER, BLACK-BELLIED TERN, Flocks of migratory WATERFOWL, various species of CRANES feeding nearby. We captured COMMON, DEMOISELLE and SARUS CRANE in our camera. Not just that Chambal gave us beautiful views of Marsh Crocodiles (Muggers), Ghariyal (Fish-eating Crocodile), a few species Turtles. What more! Susan Sara from New York was delighted to spot the highly endangered Gangetic River Dolphins. 
Post lunch we took on the road trip to Noida where the guests spend the night, before they head to meet the Tigers and more birds at the Corbett National Park in the Himalayan Foothills.
Day 06-08-NOIDA TO CORBETT WITH THREE NIGHT STAY AT CORBETT 
Noida to Jim Corbett National Park is an about six-hour road-trip. Arrival at the Jim Corbett National Park is around lunch. After a tummy- full of tasty Kumaoni Cuisines, the guests relax for a while. Corbett is best traversed via a Jeep Safari early morning and evening, with a lunch-break by the river. So the main trip here actually begins the next day. I took them for Birding in evening by the Kosi River where they shot amazing glimpses of BLACK FRANCOLIN, PURPLE CRIMSON SUNBIRD and saw the majestic flight of MOUNTAIN HAWK-EAGLE. Some 600 species of birds dwell here, especially in the migratory season of Indian winters. So the Joyne Paul from Miami and his wife were the most excited of the lot…with the idea of spending the next two days here! After a short birding tour, all of us returned to the resort which nestles in thick jungles. And thus a hub of easily spotted LONG-TAILED NIGHTJAR, JUNGLE OWLET, SPOT-BELLIED OWL, etc. 
The next two days were spent spotting and camera-capturing more than 100 species of birds. I will list a few. BRISTLED GRASSBIRD, GOLDEN-FRONTED ORANGE-BELLIED LEAFBIRD, HEN HARRIER, SLATY-HEADED PARAKEETS, RUSSET SPARROW, MAROON ORIOLE, WHITE-TAILED NUTHATCHES, CHESTNUT BELLIED NUTHATCHES AND BAR-TAILED TREECREEPER. You may also be able to spot a few mammals like Barking Deer, Jackal etc. from a distance. The highlights were Royal Bengal Tiger and a small herd of Asian Elephant. We also did have a glimpse of King Cobra slithering into the grass.
DAY 9: CORBETT TO PANGOT
The final morning at Corbett begins with a quick trip to the nearby forests for some last minute birding and then an early breakfast. Post that I take the guests to Pangot by road – a tiny hamlet yet a big birding paradise just 15 km away from Nainital. And it is about five-hour drive from Jim Corbett National Park.
Driving into Pangot is like stepping into a remote Himalayan village. The entire drive is through the Oaks and Pines of the China Peak Range via Snow View Point and beside the Kilbury Bird Sanctuary. Pangot – the birdwatchers' paradise has 250+ species of birds in and around. And even the places you stay offer you great bird-view since they are nestled amid thick forests. The RED-BILLED BLUE MAGPIE will be seen play hide and seek amid these serene environs. Thus on the first day itself (post lunch) I took the group to the nearby jungles for a short birding. We saw CRESTED SERPENT MOUNTAIN HAWK & BLACK EAGLE, VARIOUS VARIETIES OF WOODPECKERS LIKE THE BROWN-FRONTED, STRIPE-BREASTED, RUFOUS-BELLIED etc. And on their return to the lodge all of them laughed and enjoyed the sounds of LAUGHING THRUSHES. 
DAY 10, 11: PANGOT
Kalpen Suan from Mississauga told me that he had no words to explain the birding experience at Pangot. After all this region is not a destination, but a celebration of winged creatures both big and small. So, be it the Kilbury Bird Sanctuary, The Woodpecker Point or more – Pangot is Birders' Den par excellence! And all 15 of the tourist had a bird-blast here – if I put it in their words!
In the two days that they spent here, I guided them to the birding trails that extend right from the lodge to Timla Pani, Ghughu Khan, Kilbury Bird Sanctuary and on to the China Peak.
I also took them to the Woodpecker Point around Pokhara Dhar, one of the most reliable birding spots of the region, just two kilometer away from Pangot. It is off the main road which leads to Kilbury Sanctuary. The region has a shallow pool or Pokhar where you can easily find BROWN-FRONTED AND GREY-HOODED WOODPECKERS, as well as the LUMINOUS MAROON ORIOLE and jewel-like blue VERDITER FLYCATCHER. Another point famous for easy birding is the Pangot Nala. You have to come down on the main road from Pokhara Dhar and head towards Kilbury. One kilometer ahead, you will find Pangot Nala which is a small gushing stream. Pangot is also a perfect place to spot BLACK-THROATED THRUSHES, COMMON STONECHATS, SLATY-HEADED PARAKEET, RED-BILLED BLUE MAGPIE, STREAKED LAUGHINGTHRUSH, RUSSET SPARROW AND YELLOW-BREASTED GREENFINCH.
But the highlights of the birding trip at Pangot were Pheasants like CHEER, KOKLAS AND KHALIJ. And also a by-chance spotting of GREY-CROWNED PRINIA! I thanked heaven for it, since being a guide, I myself rarely get a glimpse of this bird! 
Towards the evening each day I would personally look out for SPOTTED FORKTAILS, LONG-BILLED THRUSHES AND BROWN-WOOD OWLS (sleeping in their nests) and take the guests for the glimpses. It is sheer fun for me as well, despite being in the industry for fifteen years. The third and last night at Pangot calls to retire early since the finale birding tour of the region starts with daybreak the next day, before heading to Sattal. 
Day 12,13: PANGOT TO SATTAL FOR TWO DAY BIRDING
After a finale early morning birding experience at Pangot, we headed the guests in jeeps to Sattal which is just an hour away from Pangot. But we took three hours to reach, since our I would stop the convoy for the briders as and when I would spot a new bird species! 
Sattal –  is an interconnected group of seven freshwater lakes. Sattal is at a lower altitude….thus having its own birds which thrive in and amid the orchards in the Mehragaon valley. Heaven for naturalists, birders and photographers alike, these forests are literally pulsating with life with constant sweet chirping of birds. The mesmerizing avian fauna includes over 500 species' unique assortment. 
So the coming days here were spent introducing these avid birders to the GREAT BARBET, BLUE-THROATED BARBET, STREAKED / STRIATED / RUFOUS-CHINNED LAUGHINGTHRUSH, EURASIAN JAY, BROWN WOOD OWL, CRESTED KINGFISHER, HIMALAYAN WOODPECKER AND PYGMY WOODPECKER.
Other avid birders who were with us on this trip, caught amazing shots of BABBLERS, TITS, THRUSHES AND WOODPECKERS in their cameras along-with adding some colors through RUFOUS-BELLIED NILTAVA, MRS. GOULD'S SUNBIRD, BLUE-THROATED BARBET, RED-BILLED LEIOTHRIX, RUFOUS-CHINNED LAUGHINGTHRUSH, BLACK-HEADED JAY, PINK-BROWED ROSEFINCH, CHESTNUT-TAILED MINLA – just to name a few. 
Sattal is also the land of raptors, so I showed them PEREGRINE FALCON, MOUNTAIN HAWK EAGLE, CRESTED GOSHAWK, VULTURES, SLENDER-BILLED AND THEIR CHIEF THE LAMMERGEIER. 
Day two at sattal was about exploring the birds at Chaafi. The birders were not only lucky to photograph TAWNY FISH OWL resting in the nest but also the Fire-fronted Serin chasing some other birds. Post lunch I took them to Sattal Lake, once again to sit at a place called the Sattal studio – a magical place to sit with your camera or binoculars and watch the birds come to bathe in both summers and winters.
And since time permitted, post lunch all of us – birders and guides – had a picnic-cum-birding tour at Maheshkhan – a place of calm and solitude within the dense forest. The overall trip was coming to and end, with the memories making me nostalgic. I had made great friends on this trip. And at the finale night, we all set together at  the bonfire where I made all the birders exchange notes and share their past birding experiences in life. 
Serena Shan from New York told me, "Life was beautiful in these last two weeks and I would miss it when I reach home." And compliments like these do us proud at Asian Adventures.
DAY 13: SATTAL TO DELHI
The penultimate day was about ensuring that the birders double-check their belongings and pack them well with all documents required. After an early morning finale birding time in Sattal, they are supposed to head back to New Delhi. 
On the finale birding trip, I took them to the opposite side of the Sattal Lake which we they not visited before. This time they had brilliant shots of a cute family of RUFOUS-BREASTED ACCENTOR in the nest, flocks of GREATER YELLOW-NAPED FLAMEBACK, FEW SPECKLED PICULET resting on a tree and of course the very captivating Golden Bush Robin that gave a perfect pose into the camera! 
It was late morning when we all left to Delhi .
Day 14: DEPARTURE FROM DELHI
For the guests who have a late night flight, we provide cabs and guides at a extra cost for sightseeing in New Delhi. Some of them also wish for a quick tour of the Okhla Bird Sanctuary. So we arrange that too.